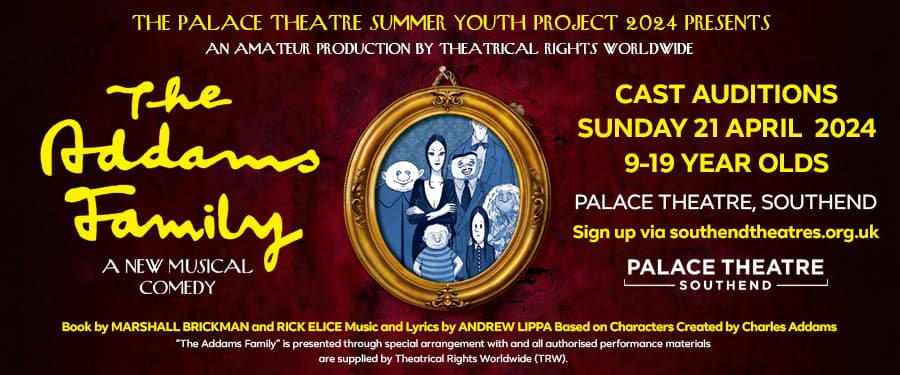 The Palace Theatre Summer Youth Project 2024 presents 
The Addams Family
We are excited to announce that 'The Addams Family' is the title for our next Summer Youth Project at the Palace Theatre in Southend, for it's 15th year! SYP is for young people aged between 9 and 19 with a passion for performing, or a keen eye for backstage. We take over the Palace Theatre for 2 weeks over the summer holidays where we create, rehearse, and perform 6 unforgettable performances of a well-known and loved musical to live audiences! To secure your space in this year's production of The Addams Family, you will need to apply and audition.
Cast Auditions - Sunday 21 April 2024
SYP Technical Youth Team interview slots will also be available. Please see application form and audition pack for more information on these.
Participants and their parents/carers are required to fill in the application form and look through our audition pack, prior to attending our audition on Sunday 21 April 2024. You can download the audition pack, with the application form below:
Our project dates for SYP 2024 will be Sunday 28th July 2024 - Sunday 11th August 2024, at the Palace Theatre. Our live performances of 'The Addams Family' will take place from Thursday 8th to Sunday 11th August 2024, involving both matinee and evening performances. Tickets for these performances will go on sale in the coming weeks.
We would love to have you join us at our Summer Youth Project auditions. If you have any further questions that are not answered in our audition pack, please do not hesitate to contact Emma, our Project Producer and Creative Learning Manager on  Testimonials
"Summer Youth is an amazing company to be a part of as we are all one big family. My life wouldn't be the same without it!" Eve – Summer Youth Project Participant. "Creatives crew and staff work very hard at including and highlighting everyone. We Loved High School Musical in 2022 - it was the best SYP yet!" - Participant and Parent of the Summer Youth Project 2023 "Bursary scheme fantastic making it means tested so those on benefits can afford to participate" - SYP 2023 Participant